How to create a whimsical girl's room in 4 simple steps
Today I want to share a whimsical little girls room transformation with you! It wouldn't be possible without our partners who have generously gifted furniture, wallpaper and paint – all to make this little girls room extra special!
Let me tell you a little bit about the little family we helped this time. The young mom moved back with her parents a while ago. As a single mom who's studying and working her life is obviously not easy. And since I too, was raised by a young single mom, I know how difficult it is – and so I have a huge respect for her and all her efforts to give the best childhood possible to her little girl!
So I wanted to help her create a space that would feel more like her in a home that wasn't her own- a room just for the two of them to cozy up and relax.
Let me show you the before:
It was a fairly small room with a lovely vintage bed in the middle- I knew right away that we need to keep this be! The rest however – not so much.
I truly believe that kids rooms are great for exploring colors and patterns – and so I started the design with this whimsical wallpaper called Magic Forest from Wallpaper Direct. I think it's just so charming and the colors in it where my starting point to design this room! I decided to put it on one wall only – because our little client also wished for a big dose of pink in her room!
And here's the after:
The bed feels like it belongs here now and the space feels so much more cozy don't you think? While I didn't change the layout as you can see a lot have changed! And the wallpaper is definitly the star of this show- it adds depth, interest and an instant mood!
The paint colour is called First Light by Benjamin moore– and it's a lovely light shade of pink- not too saturated nor too pale I think it's a perfect choice for any room that needs a hint of pink. And it works so great with the furniture in here and the wallpaper don't you think?
The cabinet and this darling rattan lamp are made locally here in Montreal, by this new furniture brand Livom. They make absolutely beautiful wood pieces, and this cabinet is just a perfect example of good design- it looks great in a child's room, but it would also be beautiful in a living room or in a dining room! And since the young mom is planning to move out next year , this piece of furniture will be a perfect beginning of her future living room.
I love how this piece look and how practical it is- you can store tons of toys and books inside while keeping the mess behind the closed doors! Which is always so important when living with kids. l and the detailing on it is just gorgeous! 
As for the colour pallette I wanted to keep the wallpaper as a starting point but I also wanted to balance the colors with some warm neutrals- hence this  beautifully textured rug from Livom– it has this geometric very delicate pattern and looks just beautiful here- and once mom will decide to move out she can use it in her future living room as it's such a versatile piece!
And I really wanted the mom and her daughter to have a comfortable spot for bedtime reading where they can cuddle together so I added a new chair in the corner. This beautiful blue velvet piece is from a Montreal brand called Cozey. They make beautiful furniture and the softest pillows and throws- the pillows here are from them as well! And this chair it's from their original collection in blue velvet. I love that you can personalize the material of the chair and the legs when you order online!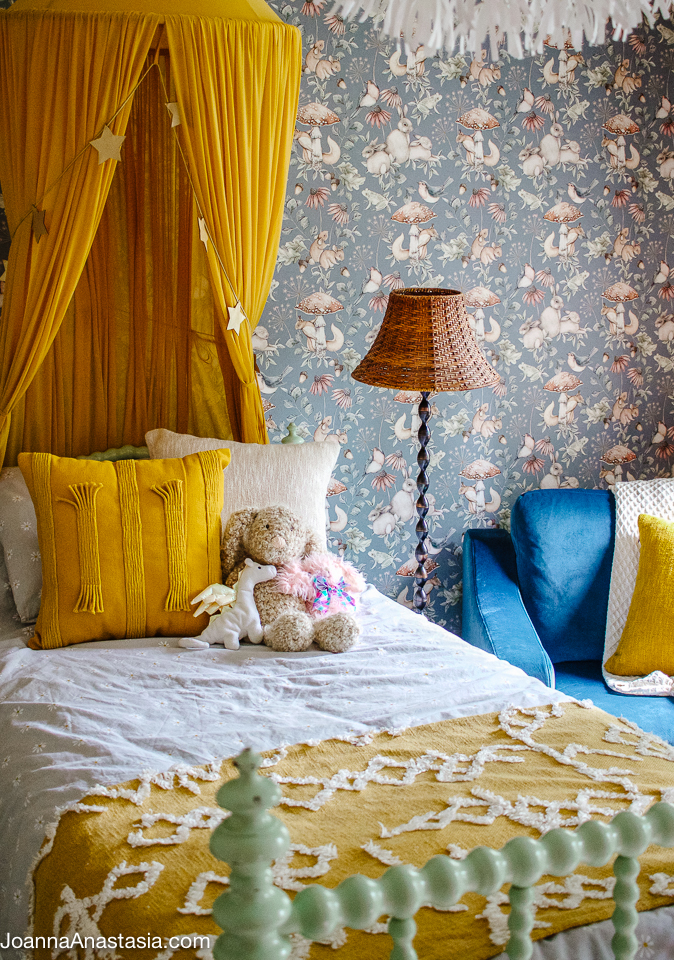 Here are 4 simple steps that you can follow to create a whimsical space in your own home!
Pick a colorful animal or forest inspired wallpaper- the whimsical floral or animal prints are the base!
Choose a colour palette of complementary colours- blues and yellows, pink and green or purple and green and yellow- complementary colours add drama, energy and interest to any room- but surprisingly they also feel harmonious when used togeher!
Add an " adult" piece of furniture for an eclectic look – a velvet chair or a vintage bookcase- they will add that old world charm!
Layer in texture
And remember, don't be afraid of using adult furniture in a kids room- as when they are mixed with whimsical patterns and rich colors they create simply magical kids spaces that grow with kids !
I'm so thankful we got to gift this room makeover to the young mom and her daughter- they where so happy and I know they will cherish these pieces for years to come!
Sources:
Wallpaper- WallpaperDirect
Chair & pillows – Cozey
Cabinet & rattan lamp- Livom
Paint- Benjamin Moore
Print art – by @thebeccavictor