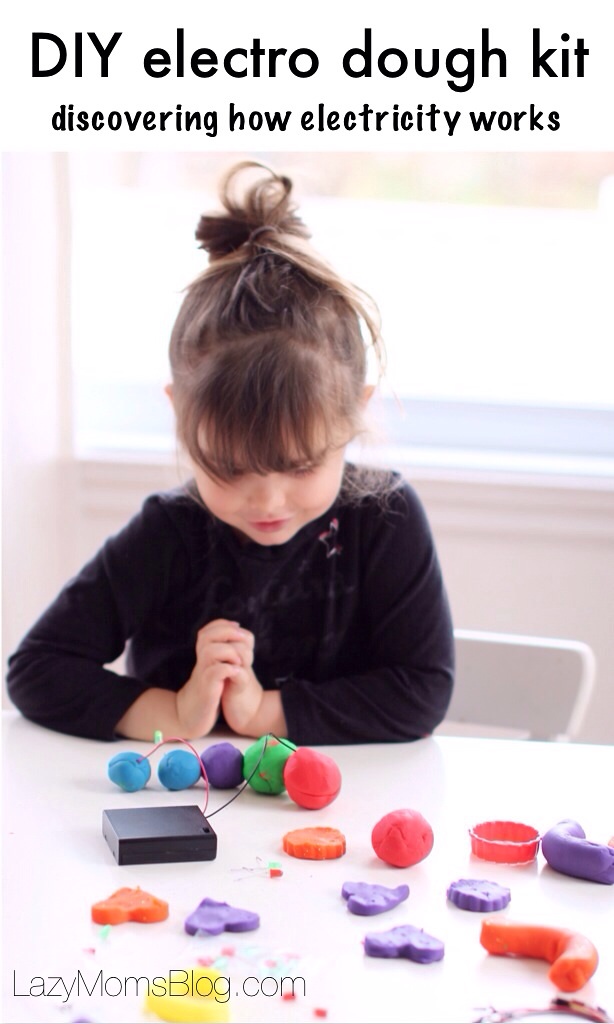 While I really enjoy playing with my daughter, what I love even more is helping her learn and discover while playing. That's why I'm always on the look out for new and inspiring activities. And today I'm really happy to share with you my new favourite one!
Whenever you're a homeschooling parent, or just a mom who's looking for fun, rainy day activities, this DIY electro dough kit is definitely something that you'll enjoy as much as we did! It's a great tool for helping children understand how electricity works and it lets them build electric circuits, while playing with light, sound and play dough.
But if you'd ask me if I liked science while I was at school, I'd tell you that I hated it (let's keep that a secret from my kids though). And that's exactly why I want to raise my daughters differently! I hope they'll feel as comfortable with science in the future as they do with play dough now.
The DIY electro dough kit comes with instructions on making your own play dough, and many cool accessories to build your own circuits. However if you're a busy parent (or if you just don't feel like it) you can totally use a regular play dough, juts like I did.
We started by creating a simple electric circuit with LEDs, and Lili understood pretty fast how to place the LEDs "legs" and how the direction does matter. I had as much fun as she did, and we were both pretty exited when it worked for the first time!
Then we've made a simple "button" with play dough, and Lili was pretty amused with the fact that it's not the switch, but her little hand touching the play dough, that controls the LEDs:
And then she asked me if I could make her some figurines. I did my best, though as you can see they turned out a bit clumsy:
We used the LEDs as if they would be little lanterns: Lili was imagining that her figurines are dancing and singing while holding lanterns, and she even made up a song about it. (Don't you love it when your kids make up songs? I do, unless they repeat them over and over again.. And then when you go to sleep you still have a weird version of "The wheels of the bus go round and round" in your head! )
We've spent almost two hours, creating, experimenting and laughing. (Except of the moment when I had to remodel all of the figurines for the third time, because she wanted them bigger and bigger! It's hard work playing with play dough..)
I'm sure we'll be playing very often with our DIY electro dough kit, and I hope that I inspired you to try it too!
Disclosure : I received this product free for review, all opinions remain my own.