Fun & fresh kids bathroom makeover- part 1
So recently I realized I almost never share with you my design process- even though a lot of you asked me about so many times over the years! So I decided to be a better blogger and to start sharing more of my moodboards and design process with you!
So while we have already updated a lot in our new home, there's still plenty of spaces that need a bit of love: like kitchen and entryway floor, family room and my office organisation. And then there are spaces that clearly need a full on makeover- all of the bathrooms and my hubbys office!
So today I want to share with you my plans for the fun and fresh kids bathroom! Now, this bathroom has good bones- the vanity is in great shape, the tiles are not broken, there's a good size closet. We are keeping the bath with shower and not changing anything structural either. But everything is so boring and brown and it's in a perpetual state of " a bomb have just went off" . Aka, it's always a huge mess.
Here's an unstaged real life snap of a proof of how bad it looks now:
Even that I am so grateful that in this new home we have our own ensuite bathroom and a separate kids bathroom, this is just awful,am I right?
Of course I know, 3 kids sharing a bathroom, including one freshly potty trained toddler and two school aged girls, can't be expected to always clean a bathroom after themselves! But I think they could have better organisation in place so the space would just stay clean-ish.
One thing I learned in design over the years is that that a well planned space is first of all functional & then it's pretty. So I plan on adding beter organisation in here to avoid three current problems in the future:
Laundry on the floor (they each have a humper in their bedroom but somehow clothes end up on the bathroom floor every single time)
Toys in the bath ( there's a basket in the closet and yet they never return there)
Vanity full of hairbands,body lotions and toothpaste ( see that tray? Well my kids don't.)
While we don't have a budget for new tiles, new vanity and new faucets (and if we would it would probably be spent on vacation anyway because I see no use in spending lots of money on a kids bathroom ) I do have plenty of ideas on how to give this bathroom a fresh and fun makeover on a budget!
So, first let me share with you my vision and then let me tell you how I'll do it- and how you can too!
I have two versions of the sample plan- one with vanity painted white and one with blue. I'm constantly going back and forth between the two as I can't seem to decide (which is common for me.) Usually I just follow my last minute instinct so we'll see which version will win! Though just for fun I'd love to know which one would you choose?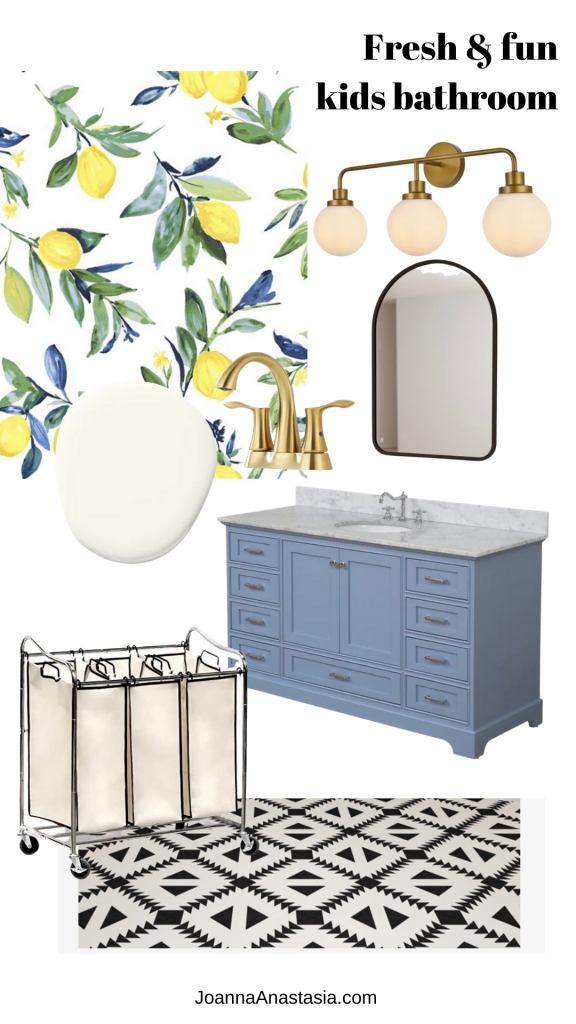 So here's how I plan on making over the brown bathroom in to this fresh and fun one:
I'm reusing everything I can: the vanity, the faucet, the shower. I have leftover lemon wallpaper and white paint. So instead of obsessing over the perfect shade for this space I just use what I already have.
I'm painting everything that can be painted. The vanity, the vanity top, the hardwear. So the vanity will be painted with my favorite Country Chic Paint , and I'll use the same White Appliance Epoxy Paint that I used on my kitchen counters for the vanity top. I'll spray paint the hardware and the faucet gold. Because even if it won't look perfect it will cost me only 12$ instead of at least 200$ ( minimum- gold faucets and gold hardwear is expensive!)
I'm buying on sale or open box whatever needs replacing- so I scored an open box bathroom sconce light for half the price- that was not the colour I wanted but it was so much cheaper and will be so easy to spray paint. We got a new sink ( because the existing one is cracked) for under 100$ and I'll be looking for a mirror on sale ( either at Homesense- they have great prices- or on kijiji)
I'm adding better organisation systems that should help my kids with the clean up- so a triple laundry sorter rolling cart that I plan on adding their names on. Baskets for vanity drawers so thing end up inside the vanity and not on it! And some bath storage toy organisers because clearly they never put toys back in to the closet.
I'm getting a cheap version of an expensive design- instead of getting new floor tiles ( yieks the expense and difficulty level!) I bought the vinyl peel and stick floor tiles from FloorPops that are perfect for bathrooms but so muuuch cheaper then the real tiles!
So now all that is left is get to work ! I'm really excited about this project and I can't wait to share with you how it'll all look together! And if you have a bathroom that you hate don't fret, just get some paint, vinyl tiles, spray paint and some open box scores and change it!