Ice Cream Truck Birthday Party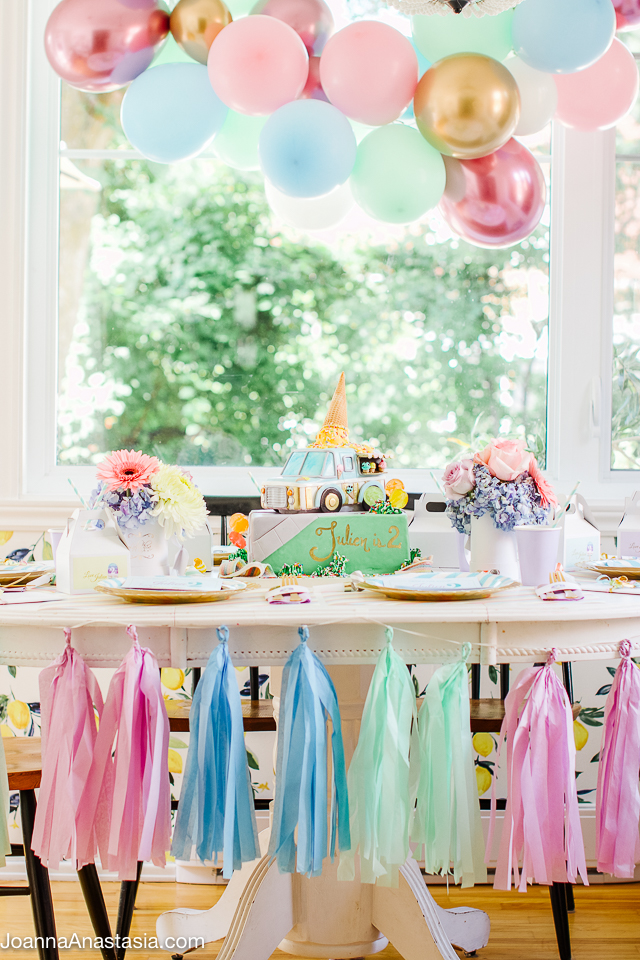 This past weekend we have celebrated Julien's second birthday- and I still can't believe that my baby is officially a toddler now! It's so bittersweet to see them change and grow and lose their babyness in what seems to be a blink of an eye! And while I'm so proud of the little boy he's becoming I'm also sad that my last baby is not a baby anymore.
To celebrate our sweet boy I wanted something special- he never had a birthday party before since on his first birthday last year we went camping ( third child problems) and then he got sick so we never got to really throw him a party before!
But I was also quite tired these last couple of weeks – the quarantaine at home with kids was pretty exhausting and I guess I'm still not fully back in shape! And because of covid we're still in social distancing mood here in Montreal- however we are permitted to having people in the backyard! So I needed to find a way to make it fun, easy and appropriate for the social distancing.
That's when my friends from Luluthia have contacted me with their new Party Box concept- a Pinterest worthy 100% personalized party in a box shipped to your door! With everything in the box I didn't have to run around the stores to get things – everything was there!
We decided to go for the Ice Cream Truck theme- since the Party Box is completely personalized – to match my toddlers love for trucks and cars with my own inclination towards everything pastel and cute!
Everything was matching my pastel colour palette and had the cutest Ice Cream Truck theme on it ( plates, cups, cutlery, balloon garland, name garland, picture frame for the sweet table, table decoration, gift boxes etc)
We received the cake and the sweets from the Patisserie Montebello and it was definitely the most beautiful kids birthday cake we ever seen- with the oh so cute and realistic rice krispies Ice Cream Truck on top!
On the sweet table we had the cutest Ice Cream shaped cupcakes , colorful macaroons, rice krispies ice pops, and cake pops- all from Patisserie Montebello.
The flowers where from the Luluthia Designs and let me tell you, they looks and smelled absolutely amazing!
Now, for the social distancing aspect ( in the context of phase 3 and permitted backyard gatherings) here are my tips:

Social Distancing Backyard Birthday Party:
Make sure you have enough space in your backyard for your guests
Set Picnic blankets with 2 meters of distance around your backyard
Set up the disinfectant station at the entrance of your backyard and at the door that leads inside
If possible set the sweet table outside and serve guests one by one
If you can't set it outside let in your guests one by one to serve them snacks at home
So while we had to make sure we are keeping our distances, it was nevertheless the sweetest and most fun birthday celebration we ever had!

Disclosure- while this birthday party was gifted all opinions and our excitement are our own!