Printable halloween cupcake toppers and my tried & tested fall baking hacks
Before I began on these cupcake toppers and fall baking hacks that I want to share with you today, let me just say that WE HAVE MOVED AND WE'RE ALMOST UNPACKED AND SETTLED! I will share with you our home and all the projects in the future weeks, so stay tuned for that!
Today though, I wanted to chat about fall baking, and a pressure of being a pinterest mom who's baking a ton and it's all picture perfect. And yes I know, I am a mom that's sharing her creations on pinterest, but let's be clear here, they are never perfect,though they are usually fun and yummy!
If you followed me for a while then you must remember my old blog name, Lazy Mom's- which was a way of saying that I'm not about perfection at all- but rather about making memories and being good enough.
So with that approach, I wanted to share with you a fun way to make any fall baking a bit less complicated and a bit more fun!
My tried & tested fall baking hacks
So first of all, cake mix is your friend! Embrace it, use it, and don't ever feel guilty for not baking from scratch! Once life with kids will get less busy, we will be best home bakers out there, I know it. For now though, let's just hack that cake box mix! By using milk in lace of water, more eggs than asked, and butter in place of eggs your cake box mix will actually taste like your grandmas cake- but will take half the prep time!
Another way to hack a cake is to add spices to your cake mix- like cardamom, cinnamon or a pumpkin spice!
My third hack is is KNOW YOUR APPLES! It took me a long time to understand that not all apples are for baking, but once I learned which sorts are best my fallbaking went to a whole new level of yummy!
And lastly, the presentation! So no it doesn't need to be complicated to be fun and a bit more out of the ordinary! Adding cupcake toppers even on a regular muffin makes it so much more fun for the kds ( you don't need to buy them, you can print mine and make them at home with kids!).Drawing with chocolate is another inexpensive and simple way to add that wow factor to everyday desserts! We used our Chocolate Pen to draw on our BOO Cupcakes and my girl told me they felt like fancy bakers !
So, here's what we baked – BOO sugar cookies and BOO apple cinnamon cupcakes. We didn't spend a ton of time, and they where not perfect, but boy did we had fun with our Chocolate Pen ( I have another blog post all about it here) and yes it did smelled like fall everywhere!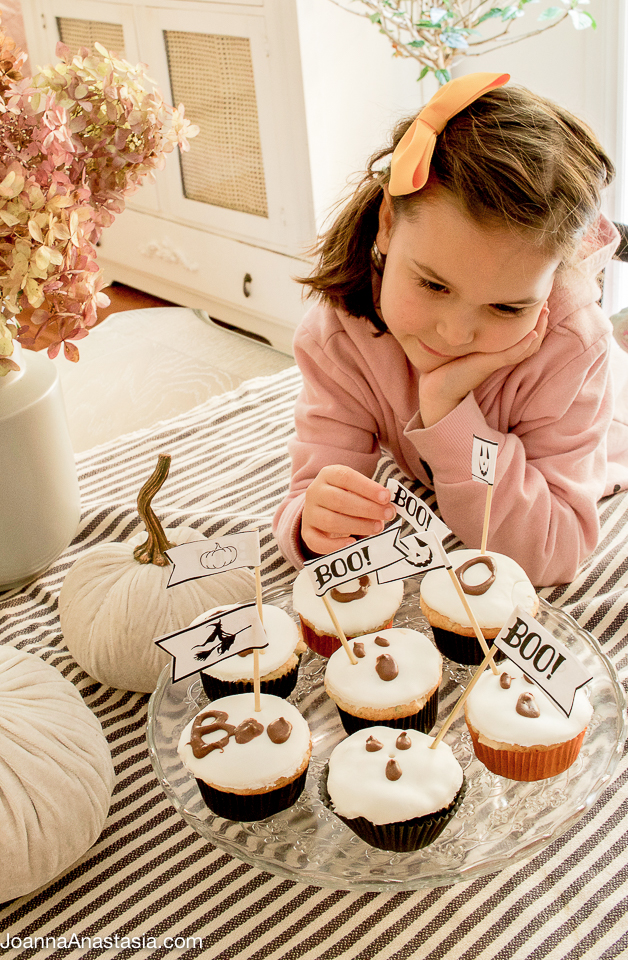 We also designed Halloween cupcake toppers with my girls ( as in, I was designing and they where telling me what they like and what not) that you can download for yourself HERE. Just print them out, cut, and glue on a toothsticks like we did!
And now, if you too would like to bake our hacked Apple Cinnamon Cupcakes, here's how!
Apple Cinnamon BOO Cupcakes Recipe
Ingredients:
Vanilla cake mix ( replace water with milk, oil with butter and add one egg)
1 teaspoon of cinnamon
1 cup of Gala apples cut in small cubes
Vanilla fondant ( bought) to decorate
Milk chocolate to decorate
Follow the instructions on the box – just remember to use the replacements! Add apples and cinnamon at the end of mixing all the ingredients. Bake and let your cupcakes cool down. Use fondant to cover the cupcakes with a thin layer, and then using a Chocolate Pen draw the ghost faces and the BOO's!
I hope that my fall baking hacks and free printable cake toppers will help you have more fun- and less stress during this special fall of 2020!
Disclosure- I received the Chocolate Pen as a gift, however all opinions and enthusiasm are my own!