So when we first moved in here 4 months ago I remember thinking how my son is the only one who is losing space in the move. Our old home was much smaller and all the rooms where tiny- our new home is really big and all of the rooms are really spacious- except of Julien's room. It's really small.
Let me show you how small it looked on the day we moved in-these are screenshots of the video I took so don't mind the quality- with wall to wall old carpet, and all in gray blue shade:
And here's how it looks now!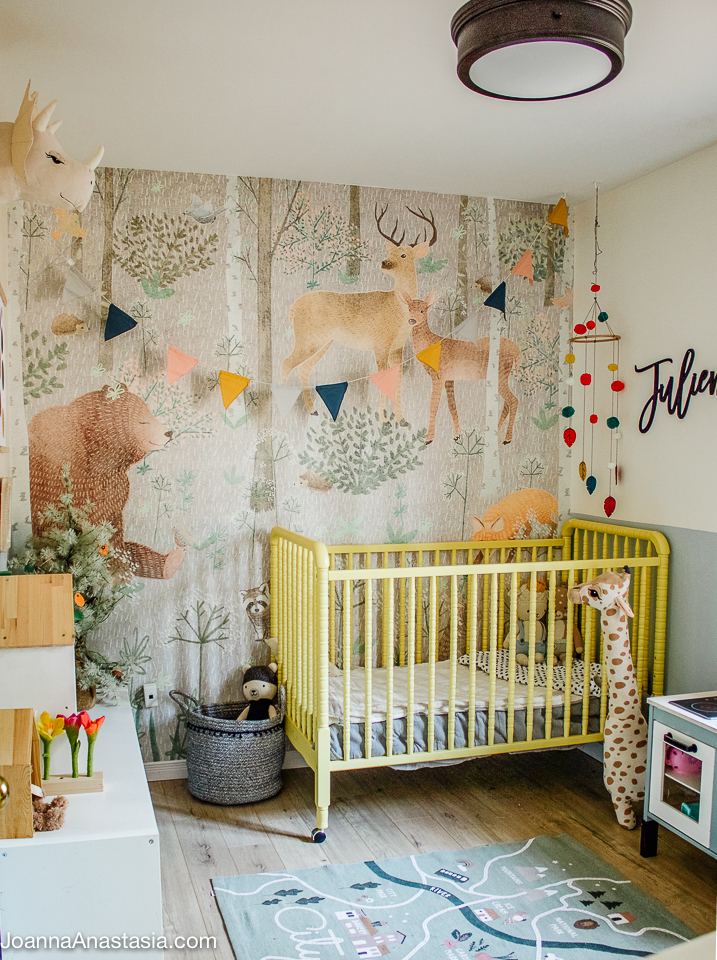 Isn't the power of wallpaper just amazing! So first thing we did we painted the room half wall warm white and half a more saturated shade of blue., and my hubby have changed the flooring! We added his furniture, art on the wall and new lights and after all that I still felt there was something missing. So when Photowall reached out to me asking if there's a room in my home that I would like to add wallpaper too, I knew right away that it was Julien's room that needed it desperately!
Because there's nothing like a wallpaper to add depth and character to a small space!
Also, let me just say that it was the first time ever we have put a real wallpaper up- and it took less than 2 hours! And was so much easier than I anticipated! The wallpaper itself is made out of amazing material, doesn't tear, has a great feel to it, is mat and was really a breeze to install! Totally unlike my experience with removable wallpapers from the past.
And I must say I really loved how Photowall had sooo many designs to choose from- all organized by themes and colors!
Now, even though Julien's room is the smallest in our new home it's now the one with the most character! And I'm pleased to say that he loves it now to!
If you'd like to change up your walls I have a code for you :
And remember, every space can become cozy and inviting! And now to help you add more charm in to your home I have a discount code that you can use: joannaanastasia25 ! ( This code will give you a 25% discount on any product at www.photowall.com and is good for a month of January!
Disclosure- I received this wallpaper as a gift, all opinions and enthusiasm remain exclusively my own.