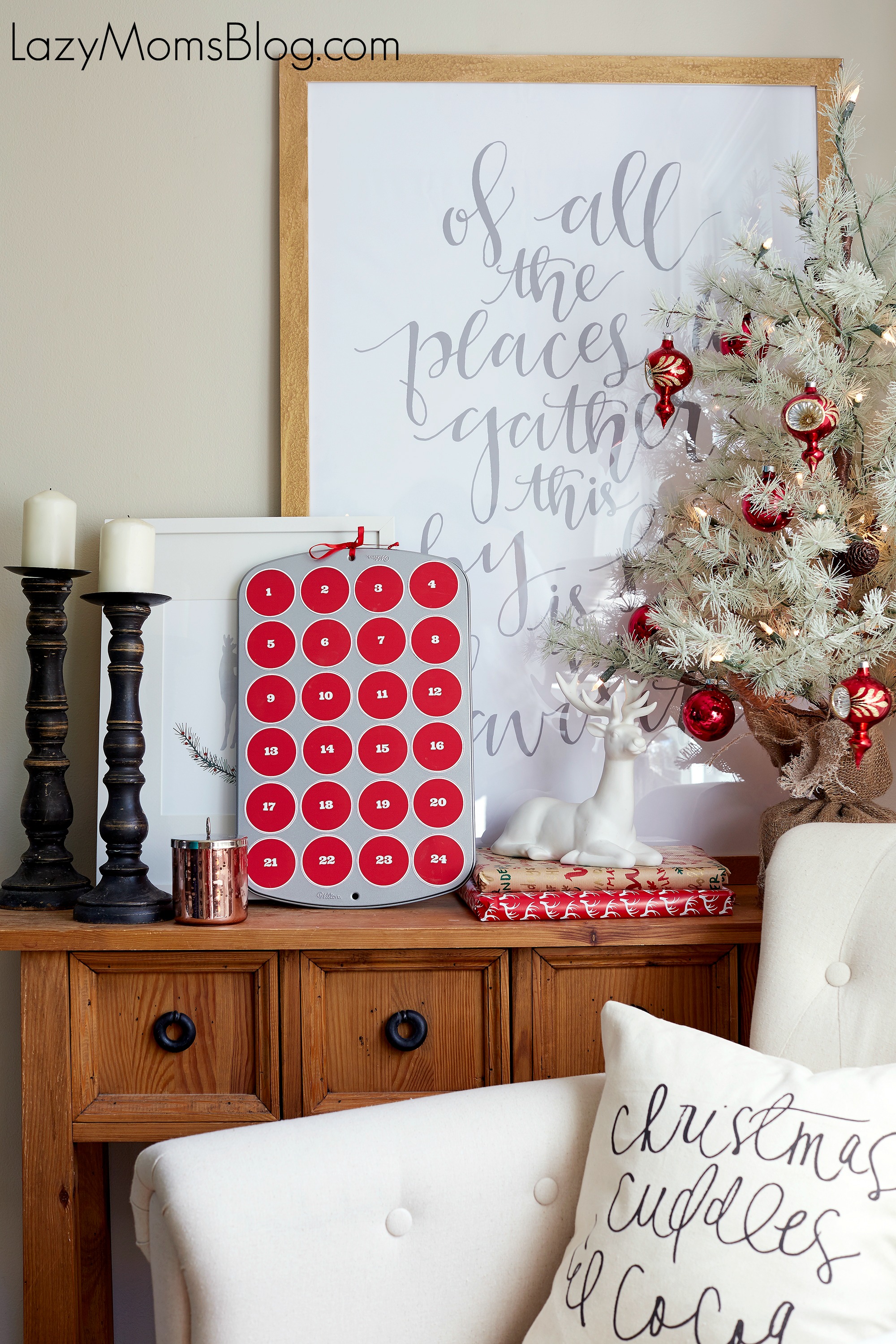 I always wanted to make my own advent calendar. I loved the idea of counting down to Christmas with kids, of building up the excitement and adding a bit of magic do dark and cold winter mornings. But I couldn't imagine myself sewing up 24 little bags or buying a ton of small and useless toys. I needed an easy DIY advent calendar idea. So when I figured out how to make this easy advent calendar, I new I needed to share it with you!
Because I really think that counting down to Christmas, one day at a time, is one of the best joys of childhood, and one of the pleasures of motherhood. And looking at my kids exited faces in the morning is what I love the most during the holiday season!
And now, it's not surprising that getting the advent calendar out off the living room coffee table, is one of our very favorite family traditions! Every day of December, in the early morning, my two daughters will be getting up all exited and will wake me up, begging to finally go downstairs and see the advent calendar. Some days they'll find candy (just don't tell them it's their Halloween leftover candy!) and some days they'll find stickers, temporary tattoos, or tiny little figurines.
Honestly I don't think it really matters what they find , as the magic lays in anticipation and surprise! And so, thanks to the advent calendar, the excitement for Xmas builds up gradually. And their huge smiles brighten my dark December mornings, as we go downstairs to count the days left until Xmas!
So this year I made this printable that you too can use to make your own easy DIY advent calendar!
You can find the full detailed tutorial as well as the printable to download at home, in our Hello Holiday Guide, here!
And I think that for kids the magic of Christmas lays in the little things, in time they spend with family and in the excitement and preparation! So don't worry if you don't have time to do all the Christmas activities from Pinterest, and bake all the cookies and prepare Elf on the shelf, because sometimes what kids will remember the most are the little family rituals like this one. Happy holidays!
<em>Photos in this post where captured by <a href="http://www.donnagriffith.com/" target="_blank" rel="nofollow">Donna Griffith</a>.</em>