Fresh spring decor ideas for your kitchen
Spring is officially here and while the world may be a gloomy place right now, our homes can reflect whatever we choose- and I choose joy! So today I'm sharing some fresh spring decor ideas for your kitchen along my fabulous blogging friends ( see below for their ideas).
1. Put your colorful mugs & plates on display!
Everyone has some colorful dishware- why not display it for an extra punch of colour? And if you're just starting to collect colorful dishware, remember that thrift stores are full of lovely plates & mugs- and sometimes even the dollar store might have some lovely hues to choose from! I just found those anthro dupes in the cheerful yellows & pinks- they will be perfect for my kids breakfast- for the fraction of the cost!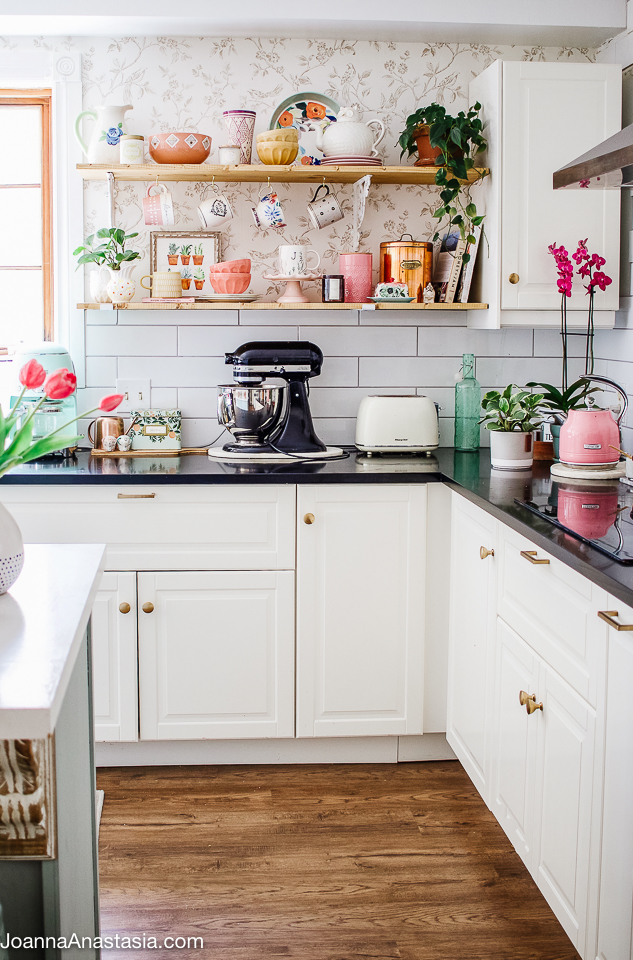 2. Paint your kitchen island a pastel hue
Painting a kitchen island is a perfect spring project! I painted mine last spring and just last weekend I gave it a nice fresh coat of the pastel blue I opted for – it took me less than an hour and my kitchen feels so fresh!
Other great colours you could try for a kitchen island are pale green, seaglass, pale pink or a lovely deep sky blue! I really loved using clay based paint for this but any paint would really work!
3. Add fresh potted plants & fresh blooms
Green leaves of potted plants, bold blooms of tulips, pretty floral prints & floral fine china – all that screams spring and adds an instant feel-good element to your kitchen!
Last but not the least- open the windows and let the fresh breeze come in! Spring after all is all about the nature showing it colours and the sun shining brightly! Your kitchen doesn't need to be perfect to make you feel like spring is here- a bit of colour, some blooms and a wide open window are all it really takes!
I hope you found some fresh spring decor ideas for your kitchen here- and now make sure to check more lovely spring decor by some of my favourite blogging friends!
Today some of my friends are sharing their Spring home decor ideas for their Kitchens. Be sure to visit their posts by using the links below the images.